Landmark Hair/Kelowna Barber Professional Products
Products Available for Purchase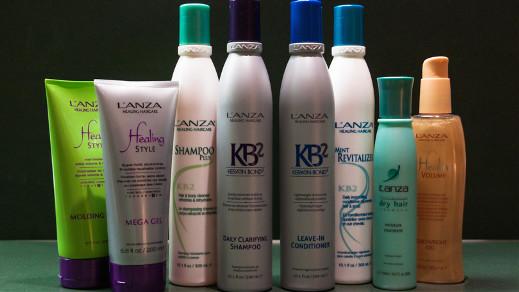 Landmark Hair is proud to pamper you with L'anza Hair Products. For optimum results, L'anza shampoos and conditioners are pH balanced and contain no
wax. Can order non-stock items. Click here for more information on L'anza Hair Products.
MiniPro 2 Thumper Massager
$250.00*
While the full-sized Professional Thumper is ideal for 2 person use, the new Mini-Pro 2 Thumper is smaller, lighter and designed specifically for self-use. Mini-Pro 2 is a professional-strength massager in a personal size
For those hard-to-reach areas like the shoulders and mid-back

For those thinner spots

For use on children and the elderly

For easy packing and travel
Using the same patented direct drive percussion action but weighing only 3 lbs., the new Mini-Pro 2 has three electronically regulated power settings for use on both thick and thin muscles.
Low for the elderly or use on the rib cage.

Medium and high to penetrate thighs and calves.

All fully adjustable to the person or body part you wish to massage.
The Thumper massagers work with the patented "direct drive percussion" action favored by a majority of chiropractors, massage therapists and professional athletes. The Mini-Pro 2 Thumper is power in a smaller package. Two anatomically designed massage spheres pivot up and down a full 1/4″ with adjustable pulses from 20 to 40 times per second producing deep penetrating waves to release
tension and knots.
Testimonials – What Men are saying about Landmark Hair
"Jean has been my barber for several
years and his professionalism and skills are top notch. I always enjoy
the quiet ambiance and conversation that Jean offers. I recommend Jean
most highly"
Allan Gill
"Jean has been cutting my hair for 20
years now. I've always preferred the barbershop atmosphere and really
like the convenience of pre-booking."
Dan Chun
Client for 20+ years.