Landmark Hair/Kelowna Barber Services
At Landmark Hair/Kelowna Barber, we offer exclusive, expert service to deliver the professional results our clients expect.
To ensure a consistent well-groomed look, Landmark Hair/Kelowna Barber is proud to extend a convenient pre-booking service at no extra charge, complete with a call back reminder for the busy professional.
Every cut or trim involves careful attention to detail — right down to the clippings which are removed from the scalp by after cut rinse and neck and surrounding areas by vacuum. Start your workday with confidence at Landmark Hair/Kelowna Barber.
We provide an invigorating and relaxing menthlated scalp massage with all shampoos
All clients receive a relaxation percussion treatment using the 'Thumper' Mini-Pro 2 Massager. With its patented percussive thumper action, or tapotement, the Mini-Pro releases muscular tension with a pulsed acupressure that easily penetrates even the stiffest muscles..
Traditional barber cuts and modern hairstyles with complementary neck and shoulder massage using the Professional Thumper Percussion Massager.
Men's Wash, Cut & Style: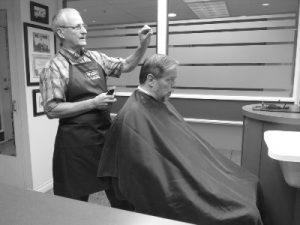 $36.00 (tax included)
Includes thorough hair wash with conditioning, trimming of scalp hair, sideburns and mustache, blow dry followed by a neck and shoulder massage using the 'Thumper' Mini-Pro Massager.
Beard Trimming & Shaping:

$13.50(tax included)
Stress Relief Treatment: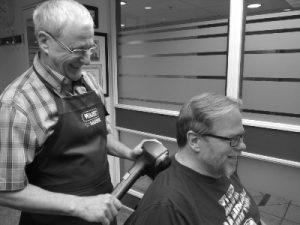 $9.00 +GST
10 minutes
Relaxing and invigorating — our stress relief treatment releases tension and fatigue in both the neck and shoulder muscles.
Using state-of-the-art technology, the Mini-Pro 2 Thumper delivers direct drive energy, penetrating all muscle layers.
Hair Tips
An important fact of nature:
Hair and skin have a natural acidic pH of 5.5 to 6.5. An acidic pH balance protects your body from infection.
Many hair products have an alkaline pH. Alkaline products, such as shampoos and conditioners, can damage your hair's natural acidic balance. To ensure your shampoo has an acidic pH, test a sample using litmus paper.
Lower quality conditioners are composed largely of wax, water, colorants, stabilizers and perfumes.
Better conditioners have a non-wax base that hair will absorb. For best results and maximum penetration, towel-dry hair before applying moisturizer or conditioner since water logged hair is not absorbent. Then, use the recommended amount of conditioner and leave on 3–5 minutes before rinsing.